We make planning your small wedding easy – with our all-in-one Micro Wedding package at North Canterbury Weddings' venue Darjon Vineyard.
If you're looking for an intimate and affordable wedding from as little as $1970, at a gorgeous North Canterbury venue, with plenty of serene space for photos, then our Darjon package could be perfect for you.
Micro Weddings at Darjon, also known as Boutique, Intimate or Pop-Up Weddings, cater for up to 30 guests year-round on any weekday or Sunday (excluding public holidays), and include everything a normal wedding does but within a two-hour time frame.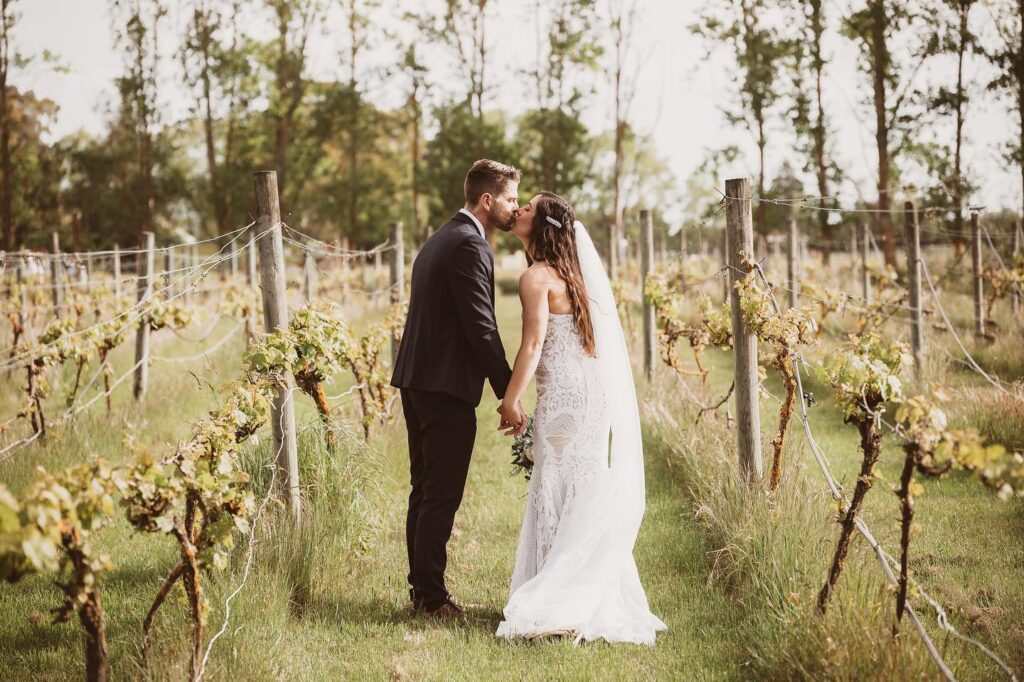 By booking our two-hour package, you receive the following:
VENUE: Darjon Vineyard, 454 North Eyre Road, Swannanoa
PHOTOGRAPHER: an available North Canterbury Weddings' photographer. (We'll organise them for you!)
CELEBRANT: Kineta Booker (back up: another North Canterbury Weddings' celebrant)
CAKE: The Sugar Room
---
There are also extras you can add in:
DRINKS: As a licensed venue, Darjon can serve bubbly $10 per glass; juice $5 per glass. (Darjon is also a BYO venue.)
CATERER: Tasteful Affairs will supply a beautiful antipasto platter – $16.50p/p, and there's an option of canapés ($17.50p/p) if this is something you'd prefer
CATERER: CaterB has crafted a gorgeous platter box made exclusively for this North Canterbury Weddings' package. (See images below.) Celebration features a selection of artisan cheeses, gourmet salami, smoked salmon, fresh seasonal fruits and veges, spiced nuts, dips, chutneys, gourmet biscuits and some sweet treats. How good does that sound! – $17p/p
FLOWERS: Bouquet and boutonniere hire from Three Roses Floral. (There are three beautiful tones to choose from – see below.) Bouquet $25, boutonniere $5.
HAIR + MAKEUP: Selina Nunn – $90p/p
TRANSPORT: VIP Cruiser – chat to Dan! 0800 744 383 (tell him we sent you!)
EVERYTHING ELSE! Check out this excellent vendor list from North Canterbury Weddings.
---
How it works:
– Message us to see if your date is available
– Secure your date with non-refundable deposits
– We send you a questionnaire to let us know exactly what you'd like to book
– We plan your Micro Wedding
– You get married!
---
Your 'to-do' list:
– Invite your guests
– Organise what you're going to wear
– Organise your marriage licence – choose 'Personalised Ceremony'
– Get married!
---
The finer details:
VENUE: Darjon Vineyard
$800
Darjon Vineyard is known as a hidden North Canterbury gem – and we have all weather options covered. Outside for sunshine, inside for rain.
Meris and Phil also supply and set up ceremony chairs, wine barrel for signing, shepherd crooks with jars along the aisle, and a ceremony arch. There are also many beautiful locations around Darjon, including among the vines, for all your bridal photos to be taken.
PHOTOGRAPHER: A North Canterbury Weddings' photographer
You have two options to choose from:
60 minutes of photos ($650)
90 minutes of photos ($800)
The time for each photography option starts at the ceremony.
You will receive a gallery of images four weeks after your wedding, with a 'sneak peek' of five images within 48 hours.
CELEBRANT: Kineta Booker
$400
Kineta Booker loves micro weddings! There's something so special about inviting your closest friends and family to celebrate your love with you. We do the legal bit first, with a beautiful personalised ceremony, where you can share your own vows (which I'll help with) – then you can get into the celebration straight afterwards! (NB: The price of the celebrant doesn't include your marriage licence fee of $150. If you'd like to hire Kineta's PA for the ceremony music, there's a small fee of $25.)
CAKE: The Sugar Room
$120/$150
You will receive a taller style 6-inch cake. Flavour choices: chocolate and caramel; vanilla and passionfruit; red velvet and raspberry; lemon curd. And here are two cake styles to choose from: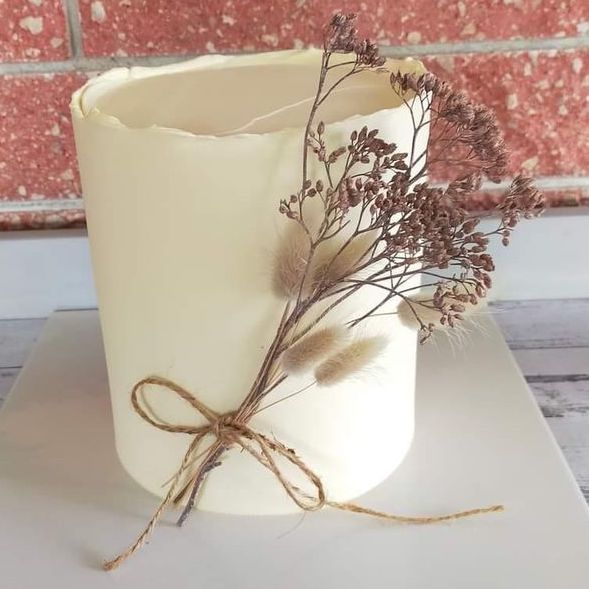 Option 1
$120
A rustic-style cake featuring a smooth buttercream finish and a dried flower arrangement.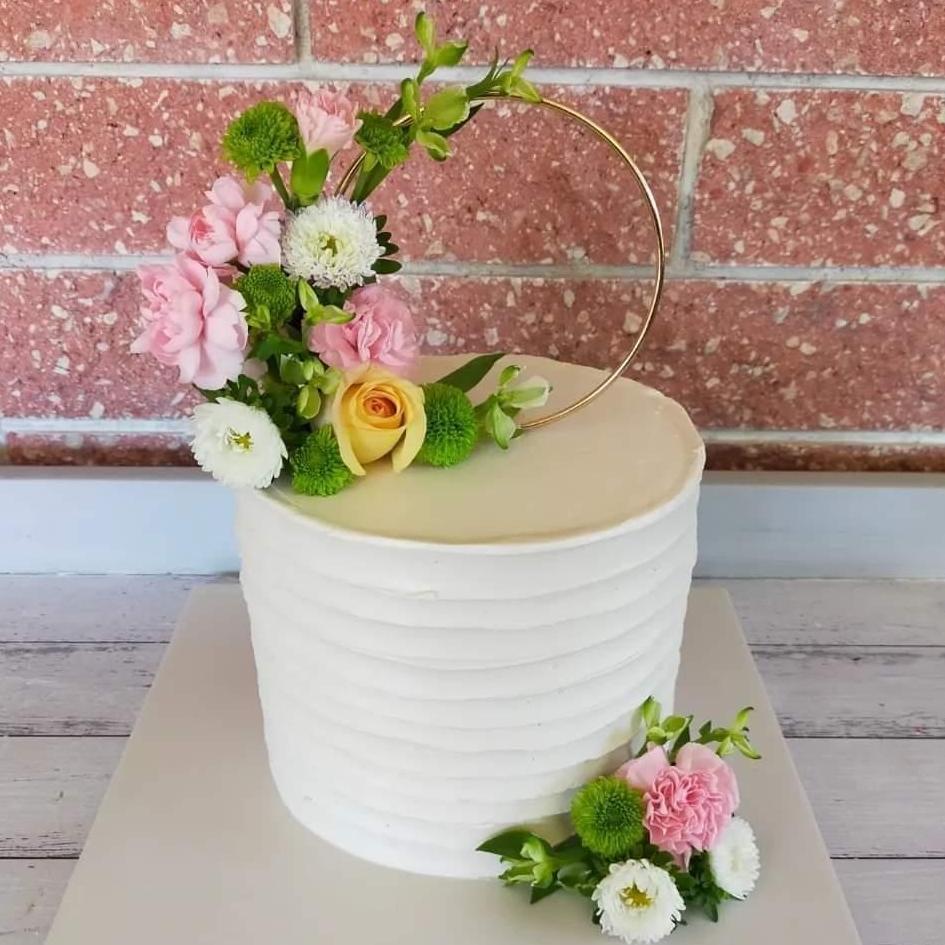 Option 2
$150
Textured buttercream finish with fresh florals climbing a gold hoop.
---
Some add ons:
CATERING: CaterB
$17p/p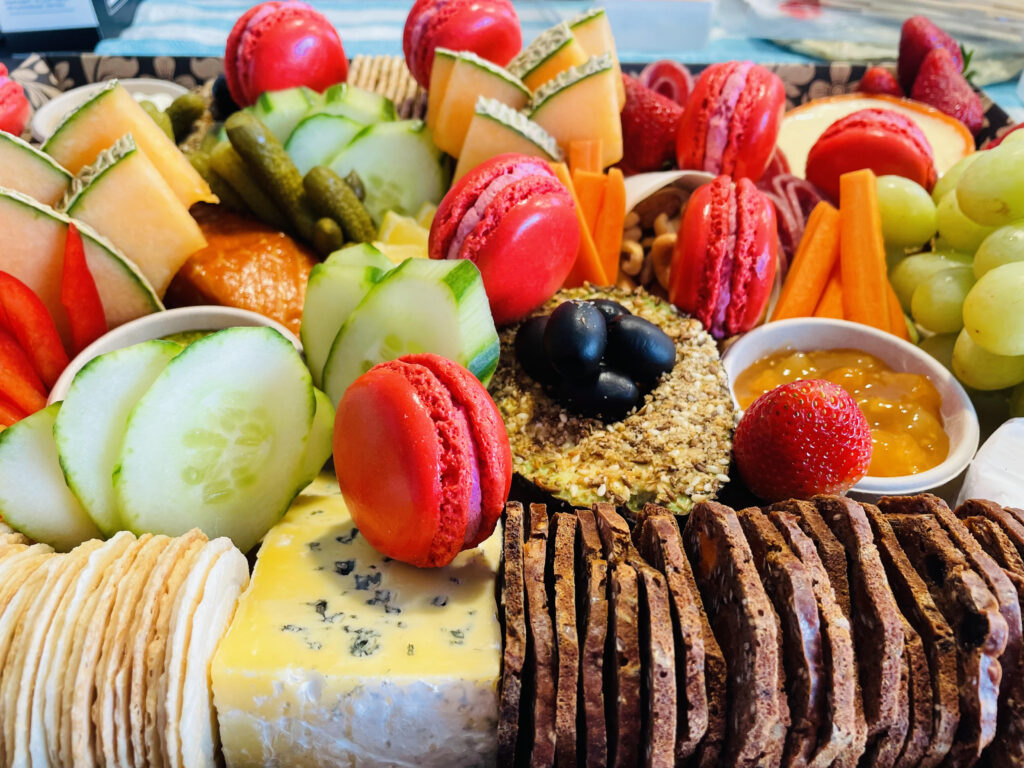 FLORALS: Three Roses
$25/$5
If you choose to hire some gorgeous silk flowers for your ceremony and photos, here are the colour palettes to choose from: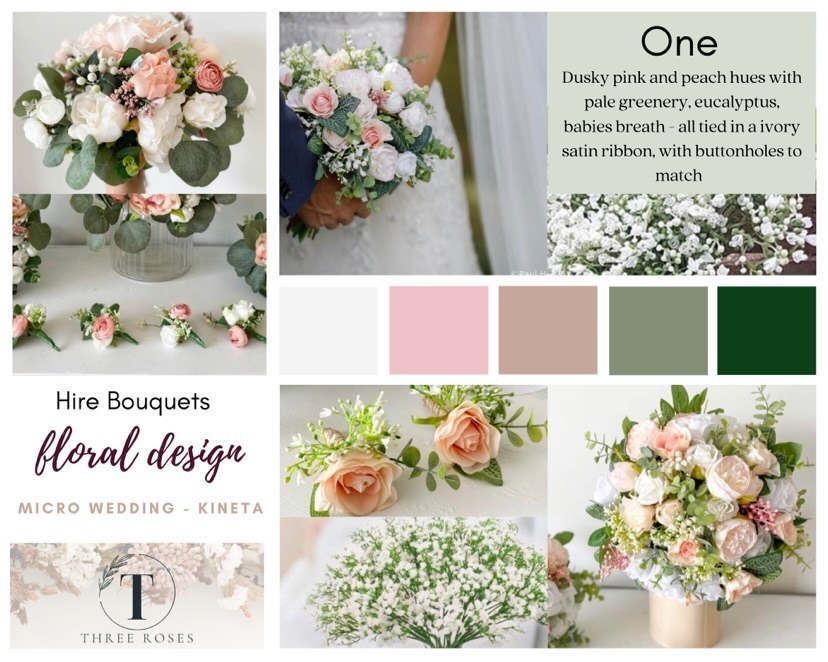 ---
For more information or to book – contact us!